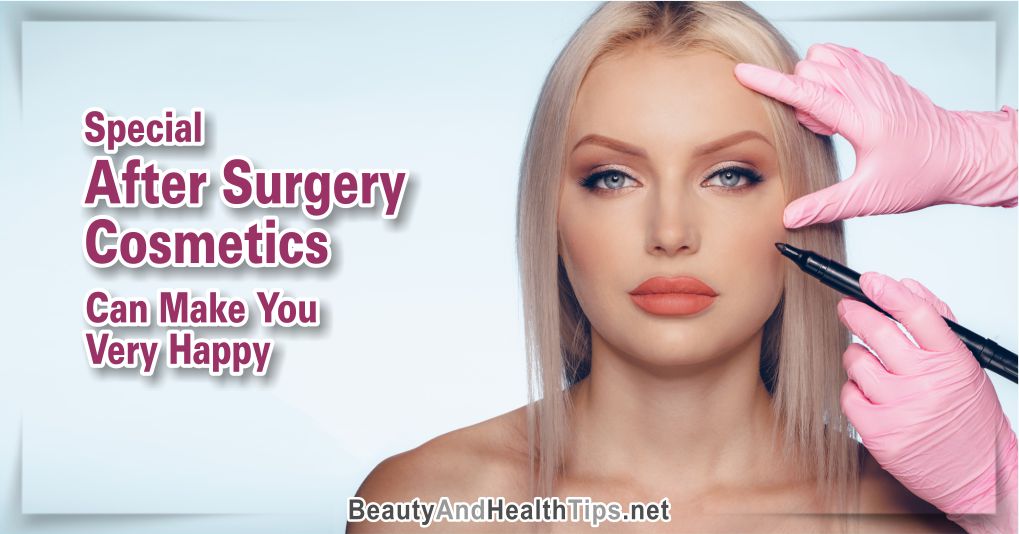 After Surgery Cosmetics
Special after surgery cosmetics sets (postoperative cosmetics) are designed for after-surgery care. Thanks to special make-up it is possible to cover the problems of swelling, skin redness, and bruising, after surgery incisions. In most cases, camouflage cosmetics can be applied two-three days after the cosmetic surgery procedure. These cosmetics help to return quickly to normal activities and work.
Today's beauty industry offers a huge choice of possible variants of cosmetic surgery procedures that can improve the face and body, and solve numerous problems caused by natural aging, sun exposure, gravity, bad habits, corporal defects, etc. All of them are rather effective and durable but like any surgical operation, they keep a certain group of risks and possible complications.
Almost all cosmetic surgery procedures have one scheme and contain three stages:
Surgery preparation (thorough client's health examination, certain technique, anesthesia choice, discussion of possible complications, etc.);
Operation performance itself (depending on certain operation and cosmetic surgeon skills)
Surgery after care (complex of procedures depending on operation.
Special After Surgery Cosmetics Eliminate Surgery Scars
The healing process often depends on the level of the patient's accuracy and the close following of all surgeon's instructions and recommendations.
But in any case almost always after surgery indications and side effects are rather obvious and need special care. One of the best solutions for all surgery aftercare cases is special after surgery cosmetics (postoperative cosmetics). It is a very effective solution that helps to be back for all social activities, sports, and work.
Special after surgery cosmetics suit perfectly in the case when the patient has already recovered and feels good. Because, after the surgery, it does not so smooth with her/his appearance. Swelling, bruising, redness, visible incision indications, and prints are very common side effects of plastic surgery procedures. It may take a long time before the patient enjoys the effect of cosmetic procedures completely. The patients can return to their usual schedule thanks to camouflage cosmetic usage.
It is better to get information directly from the cosmetic surgeon about special after surgery cosmetics far before procedure performance. He/she can give high-quality consultation about preferable terms and conditions of camouflage cosmetics usage. Make-up that is designed for swelling and bruising can be applied 2-3 days after the surgery. Incision camouflaging is possible after stitches removal and incisions complete closing.
Nose job allows special after surgery cosmetics application after cast removing. In the cases of chemical peeling and dermabrasion, it is possible after the crust has gone off.
Special After Surgery Cosmetics, Camouflage Cosmetics
Today it is not difficult to find all kinds of camouflage cosmetics that you need and recommended by plastic surgeons in many department stores even among ordinary cosmetics. The important items while choosing camouflage cosmetics are taking into account the hypoallergenic and fragrance properties of products that are going to be used after surgery cosmetics.
Even if it was decided by the cosmetic surgeon to go on with ordinary everyday make-up it is necessary to take care of the clearness of applicators. Three basic "special after surgery cosmetics" directions are incisions and bruises hiding lines; redness and general facial color-correcting lines; contour reshaping removal.
More Info:
If you want to know more about "special after surgery cosmetics" or camouflage cosmetics, you can review the articles on this website. I am sure you will find other articles that will interest you as you browse the site and you will like it very much. In addition, do not neglect the fresh links that you will encounter while doing this, remember that they may have the most up-to-date information.
Related